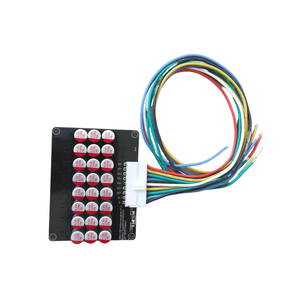 8s 5A Active Equalizer Balancer LiFePO4 Lithium Battery
Regular price R 0 R 1,050 Sale
This active balancer for Lithium Iron Phosphate batteries has an equilibrium current of up to 5.5A, and a balance voltage accuracy of 5mv. The balancing current increases or decreases depending on how balanced the cells in the battery are. If the battery voltage drops below 3v per cell, then the balancer enters sleep mode, drawing a current of less than 0.1mA. The active balancer has a quiescent current of maximum 10mA, so it is recommended that the battery capacity is 60-300Ah.


Balance Start Voltage : 3.0-4.2 VDC
Balance Stop Voltage : 2.9 VDC (Sleep mode)
Balance Accuracy : ≤5mv
Sleeping Current : ≤1mA
Quiescent Current : Max 10mA Working Temperature : 0°C to 60°C
Dimension : 91mm x 70mm x 16mm (L x W x H)
Questions & Answers
Have a Question?
Be the first to ask a question about this.
Ask a Question
Whatsapp