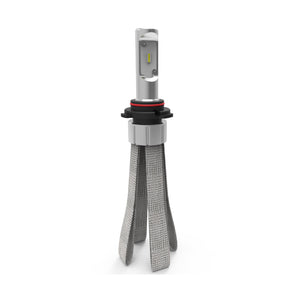 HB4 (9006) Elite 8C Headlight Replacement Bulb - Set of 2
Regular price R 1,295 R 975 Sale
Complete Guide:  How to install LED Replacement Bulbs, FAQS & Beam Shots.  Read More...
Version 8C of the popular HB4 LED Headlight Replacement Bulb has the following improvements:
Improved Heatsink:  The new Flexible Weave Cloth Heatsink can be flexed into smaller spaces and has better heat distribution.
Light Output:  150% more Light on the road where you need it most for maximum visibility.
Beam Pattern:  Improved optical reflectors enhance the concentration of light. 
The stylish HB4 LED Headlight Replacement Bulb is the perfect upgrade for your already trustworthy vehicle. These Replacement bulbs will enhance you and your family's safety with superior lighting, and they look great as well. These will give you peace of mind when doing those late night errands or driving long distances in the dark.
WARNING:  The heatsink needs proper ventilation to cool off.  If enclosed you will void your warranty.
2800 Lumen per Unit

CANBUS compatible – will not affect your vehicle's computer

RFI Interference shielded – will not affect your radio reception

Easy to fit - complete fitment in less than 10 minutes.

150% more light than your standard headlights

Similar design and beam pattern of normal halogen bulbs - will not blind oncoming traffic

Suitable for 

most

 vehicles

Enhances visibility at night

Fanless cooling - no moving parts

1 Year Warranty
Cooling:  Pure Copper (Cu) Flexible Weave Cloth Heatsink with no moving parts.  Cool with Air Convection.

Power for each bulb: 20W  

Epistar LED chips with 2800 Lumen per Unit

Voltage

:

DC 12V – 24V

360° Beam Angle

30,000 hours Lifespan

Water Resistant

Colour temperature:  Daylight White 5700K

Electrically shielded against RFI & EMI Interference
What Bulb Code does my Vehicle use?
Different specification levels in the same Make and Model of vehicles makes it possible that eg. a 2006 Model Toyota Fortuner can use different sets of bulbs.  That is why you should:

Find out from your Auto Electrician, a Dealership or your Owners' Manual what bulb code your vehicle uses.
Will the LED Replacement Bulb fit in my vehicle?
These bulbs are equipped with a heatsink at the rear, to assist with heat dissipation.

Additional space is required above what is needed for conventional halogen bulbs, to accommodate the heatsink.

Ensure that your vehicle has enough space for the heatsink.

If your vehicle uses a 

spring clip

 to attach the bulb to the reflector housing, it SHOULD fit.  If your vehicle has a 

hard plastic / metal bulb adapter

 fitted to the bulb, it MAY NOT fit.

If your vehicle's reflector housing has a 

soft rubber dust cap

, it SHOULD fit.  If your vehicle has a 

hard plastic dust cap

, it MAY NOT fit.
Additional Information
Convection is the way heat is transferred from one area to another when there is a "bulk movement of matter." It is the movement of huge amounts of material, taking the heat from one area and placing it in another. Warm air rises and cold air replaces it. The heat has moved. It is the transfer of heat by the motion of objects. Convection occurs when an area of hot air rises to the top and gives off energy. Another example is warm air in the atmosphere rising and giving off energy. They are all examples of convection. The thing to remember is that objects change position.
2 X LED Replacement Bulbs

2 X Slimline Ballasts
Hi, are these correct LED's (HB4 9006) 2020 hilux legend 50 (brights only as dims are already LED's) also - same connector / OEM plug compatible..? thanks

Hi there. If your vehicle's brights are also HB4 bulbs, then our HB4 bulbs will work. They are 100% CANBUS compatible and plug and play.
Whatsapp